Mini (Table Top) Flow Wrap Machine (Model : ECO)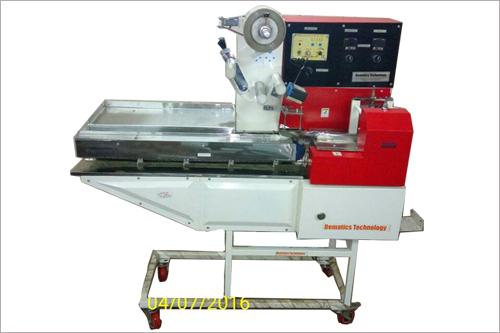 Product Description :
First time India our company has introduced "Table Top Flow, Wrap Machine" which id
Compact, Portable, Less Budget and Quality Standards...
Best for home made products & Laghu Gruh Udyog.
"This machine introduce you in the market with your own brand."
Features :
Simple to operate & takes minimum space of shop floor.
Economical price with Compact, Portable & quality Standard.
Electrical Consumption is very less.
PLC Base.
Trouble free & User friendly operation.
Improved design for maintenance free.
PID Temperature controller for Sealing & Cutting.
Product Contact parts are made of stainless steel 304.
Applications :
Cake, Biscuits, Sweets, Ice Candy, Cheese, Paneer, Toilet Soap/ Hotel Soap, Detergent Cake, Scrubber Pad, Bearing, Small Hardware, Playing cards, Tattoos, Naphthalene Balls, Wet Tissue Paper, Chhiki, Homemade Candles, Homemade chocolates, Black Dates, Mini Samosa, Mini Khachori, Dhokala & many more..
Specifications :
| Mode | Manual Feeding |
| --- | --- |
| Motor | 0.5 HP, Single Phase, 415 V AC, 50 Hz |
| Power Input | 2.5 KWH Single Phase consumption |
| System | PLC Based |
| Speed | 60-100 PPM |
| Machine Size | 1100x400x750mm (LxWxH) |
| Machine Weight | Less than 100 Kg. |
Mini (table top) eraser flow wrap machine
Mini(Table Top) chocolate packing machine
Mini (Table Top) Razor Blade Flow Wrap Machine
Mini - flow wrap (Table top) machine